Sage and AACSB
Business research with societal impact
Sage is a proud
Business Education Alliance Member of AACSB International
, the world's most prestigious accreditation body for business schools. As an active part of the AACSB community, Sage works to provide educational resources that align with accreditation standards and known needs.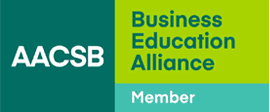 Resources from Sage and AACSB
Sage and AACSB Thought Paper
Research That Matters: An Action Plan for Creating Business School Research that Positively Impacts Society

Sage sponsored AACSB Explores video
Empowering Socially Responsible Future Leaders
Sage article in AACSB Insights
Teaching DEI Through Case Studies
Sage and AACSB joint webinar
Enriching the B-School Classroom by Partnering with Socially Innovative Enterprises
This session focused on the growing importance of social enterprises of all sizes—from certified B Corps to LC3s to social startups to socially responsible investing and more—and how educators can build connections with these companies to enrich the business curriculum for their students.
---
Sage Business
Shaping the future of business to support a thriving global society
As the world becomes more interconnected, the speed of change in both business and society is ever-increasing. The next generation of leaders and entrepreneurs need business education to keep pace. We believe in addressing social impact, not just business success. Gaining insight from a breadth of diverse, global perspectives. And equipping students with future-facing skills, not just knowledge. It's business viewed from every perspective.
What makes Sage Business unique?
Scalable academic resources
to help move courses online
Unlimited, simultaneous access
with no need to relicense content
Built for success
to prepare students for the future
Modern Content
developed with a diverse global perspective
Simplicity of use
with embeddable content, including video clips and data embeds

Easy access and cost-efficiency
means no extra registration steps and costs for students
Alumni access
allows graduates use of valuable content for industry and job research
Digital learning
that unites theory with practice to teach in-demand skills
Available from Sage Business
Research and insights blog
Cutting-edge insights published by Sage, as well as other important pieces from the academic business and management arena — by the academics or practitioner authors themselves.
Free resources
A range of resources for researchers, instructors, students, and policymakers to show how ideas can lead to real-world innovation, with an emphasis on ethical and sustainable practices and societal impact to help you educate, inform, research, and learn.